With the world of male fashion evolving constantly and most of us leading busy lives, it can be hard to keep your finger on the pulse when it comes to men's fashion trends. Traditionally, personal shopping has had a reputation of being only for the wealthy and being confronted by pushy personal stylists.
However, leading high street fashion brand River Island is aware of the stigma around personal styling and have created a complimentary styling service called 'River Island Style Studio'. Which offers a unique and tailored personal shopping experience, which feels luxurious yet inviting.
I booked in online for my own personal styling session and here's how it went…
With Spring now in bloom and Summer fast approaching, I wanted to find a few outfits to wear around the office. I wanted them to be both smart and comfortable, therefore, I selected the one-hour 'Studio Select' session (you can also pick from 'Studio Fix', which lasts 30 minutes and 'Studio Inspire', a two-hour session designed to cover trends for all occasions).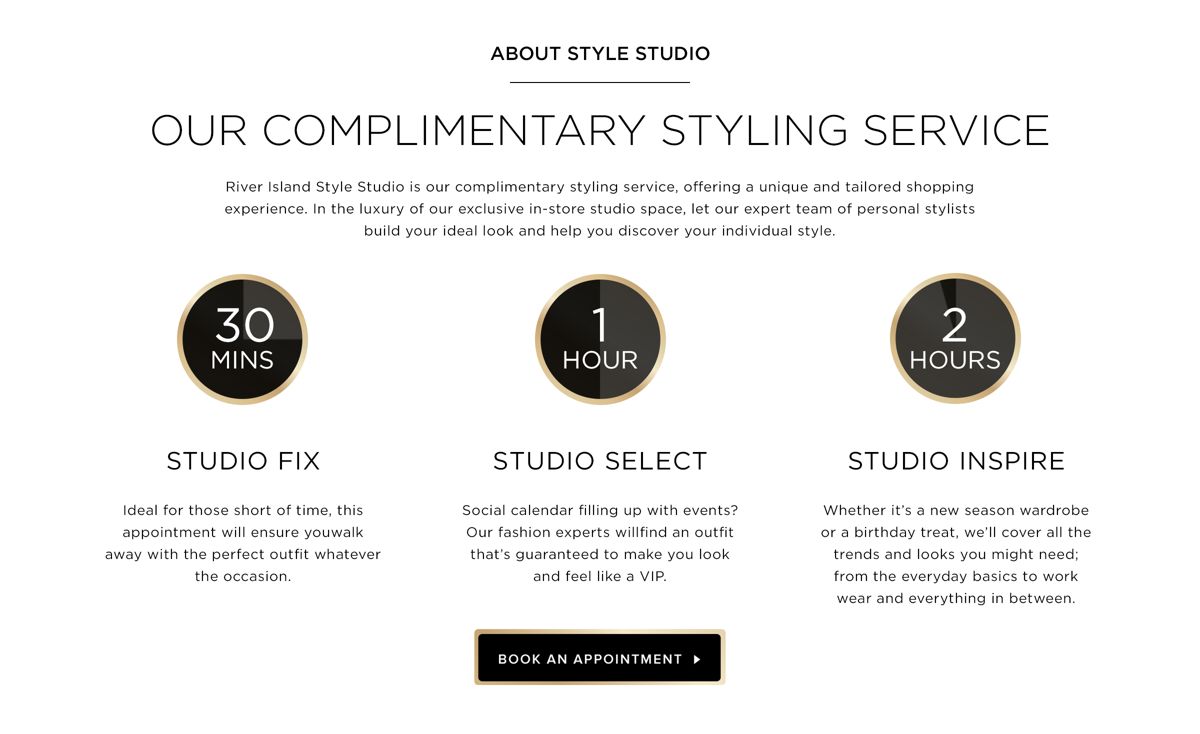 The booking process couldn't have been any easier. Once you've chosen your slot, you receive an email confirmation with details of your assigned expert personal stylist – Mine was Alice.
Alice called me the day after I'd booked to build a picture of what I was looking for out of my styling session. She asked and what styles I usually go for, as well as checking my sizes, enabling her to build my ideal look ahead of my session.
When I arrived at the London, Oxford Street store, I found the studio space on the third floor. First impressions were that the lounge appeared very open and inviting, with modern interiors, quirky soft furnishing, flattering lighting and top SS16 hero items on display.
Alice offered me a glass of prosecco on arrival before she talked me through the looks she had pulled ahead of our session, based on my preferences. But the styling session didn't stop in the lounge, as we headed downstairs to the menswear floor to take a look at the new season arrivals.
I left with two outfits, which I've worn to work a few times now. Although a few of the pieces I wouldn't have initially picked out myself, in terms of style and colour, they've actually become my favourite items to wear. This is kudos to the service as it makes you step outside your usual comfort zone, when selecting fashion items and opens your eyes to new and updated styles.
I'm already planning to head back to River Island Style Studio to discover River Island's Autumn/Winter trends – Especially as that perfect 'winter jacket' is always so hard to find!
To book in for your own bespoke complimentary styling session, in London or Birmingham book here
Save